THE HIGH PRESSURE COOKER CBC
Essential in all catering and commercial kitchens.
CBC produced in 1923 the first pressure cooker in the world, being the company with most market experience.
The most trustworthy way of cooking with sanitary guarantee and food quality is to reach a very high temperature during the cooking process.
The pressure cooker CBC provides these two qualities, essential for achieving food with the highest quality standards.
Its operation and design allow cooking with security, speed, precision and cost efficiency any food, preserving all the flavour, aroma and properties.
The Pressure cooker CBC optimises the cooking process:
1) Nutritional Value: less cooking time implies a higher amount of nutrients.
2)Sanitary quality: removing germs, viruses and harmful bacteria.
3)Costes: saving energy and time.
Made of Stainless steel AISI-304.
Made by certified welders.
Adjustable working pressure from 1 to 3 bars.
In accordance with directive 2014/68/UE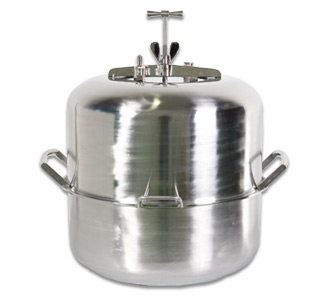 7 ADVANTAGES OF THE PRESSURE COOKER CBC: THE PROFESSIONAL COOKER.
It is high pressure: eliminating the risk of infection
Food integrity and sanitary quality, used as an autoclave.
Economic: minimises energy consumption
The safest ones: inside lid, valves and certified bursting disc.
Intelligent system: the cooker lets you know when the food is ready; without the need to control timings.
Simplicity of operation and easy to clean.
Robust: long life with low maintenance.
Particularly suitable for:
Commercial kitchens (hotels, hospitals, residences, etc.).
Industrias de preparación, (catering)
Food processing (preserves, ready meals, meat processing plants, etc.).
Autoclave: Product sterilisation and preserves.
With the possibility to put a pressure manometer or a thermometer
Round or modular square external enclosure, fixed or mobile, with portable installation. Inner grille